FINAL STATS FOR 2005: Marcus ends the year as a Top Twenty Westie All Systems. Nationwide, he was ranked No. 15 Westie in Breed points and No. 19 Westie in All-Breed points, according to Canine Chronicle Online stats, for AKC events processed through December 31, 2005.

GiGi ends the year in style winning Best of Breed from the classes under renowned Terrier Judge Ric Chashoudian (top photo), making the cut in the Terrier Group under Judge Robert Stein, and then garnering a Bred-by Exhibitor Group First under Judge Stein (pictured directly above) at the Conroe Kennel Club show on December 10, 2005.
GiGi apparently made a bit of an impression on Judge Ric Chashoudian, who subsequently mentioned GiGi in his monthly "One Man's Opinion" column (The Canine Chronicle, February 2006), referring to her as "a beautiful, young West Highland White bitch."

Marcus faced some tough competition at the shows in Garland, Texas, the first weekend of December 2005, but he was up for the challenge and won Best of Breed two of the three days shown. His wins were under distinguished Westie Breeder/Judge Marjorie Underwood and noted Cairn Terrier Breeder/Judge Lydia Coleman Hutchinson.
Meanwhile, Marcus received an invitation to the AKC/Eukanuba National Championship invitational that will be held in Florida on January 14 and 15, 2006 (he will not be attending).

GiGi wins Best of Breed from the classes under Judge Joseph Gregory and Bred-by Exhibitor Group Two (pictured above) at the Cen-Tex Kennel Club show on November 26, 2005. GiGi is now more than halfway to her championship.

*** Marcus wins another Terrier Group Three placement, this time under Judge James J. Ham at the Tyler Texas Kennel Club show in Canton, Texas, on October 15, 2005. This win made Marcus a Top Twenty Westie All Systems for 2005 (from Canine Chronicle Online stats, for events through October 31, 2005). ***

GiGi (above) displays all of the right moves at the Morris & Essex Kennel Club show in New Jersey on October 6, 2005, and Judge Jim Reynolds awards her first place in the Bred-by class, a great honor at this historic show because of the tremendously large entry. Equally impressive, GiGi took fourth place in her class at the National Sweepstakes in Kimberton, Pennsylvania, on October 8, 2005, under Breeder/Judge Barbara Barrie.
The same weekend, Marcus was shown by agent Christopher Keith at the Chaparral Kennel Club show in New Mexico. Marcus won the Terrier Group under Judge Clinton M. Harris the first day (see below) and was awarded a Group Three from Judge Donna M. Cole the second day!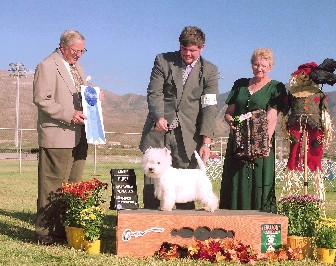 *** Marcus wins Best of Breed back-to-back at the Fort Worth Kennel Club and Texas Kennel Club shows under Judges Judy Doniere and Edward Wild, respectively (September 24 and 25, 2005). ***

During one of her rare moments in the ring, Ingenue is awarded Puppy Terrier Group Three under respected Judge Dr. Eric Liebes at the Corpus Christi Kennel Club show on August 13, 2005!

GiGi had a great weekend at the Reliant World Series of Dog Shows: Reserve Winners Bitch at the West Highland White Terrier Club of SE Texas Specialty from the Bred-by class on Thursday, July 21, 2005; Best Opposite in Sweepstakes on Friday, July 22, 2005; and Winners Bitch and Best of Winners from the Bred-by class for a four-point major on Saturday, July 23, 2005 (pictured above with Judge Patti Long Smith). All at nine months of age!

NEWS FLASH!
Marcus wins Best of Breed back-to-back-to-back
at the River City Cluster of Dog Shows in San Antonio, Texas, during the weekend of July 15-17, 2005. Our thanks to Judge Patricia Trotter, Judge Dr. Edna K. Martin, and Judge

Luiz Fernando Ribas Silva!

These wins -- during Marcus' first outing as a special with handler Christopher Keith -- placed Marcus among the Top Twenty Westies in the nation*.

*Source: AKC 2005 Top Dogs Conformation Report By Breed for events processed through July 19, 2005.

GiGi wins Best in Match at the Houston All-Terrier Club AKC Sanctioned Terrier B Match on July 9, 2005, under Judge Mrs. Adelene Pardo (following GiGi's Best of Breed win under Judge Carl Sanders). Read about this win in the Fall 2005 issue of Just Terriers magazine, Vol. 5, No. 1.

Marcus wins Best of Breed at the Beaumont Kennel Club show on May 1, 2005, under respected Breeder/Judge Dr. Gerry G. Meisels (pictured). This win (the day after winning his championship) placed Marcus among the Top 25 Westies in the nation. He also made the cut in a very large and competitive Terrier Group.

Marcus is shown above winning Best of Breed and his championship under Judge Lenora M. Riddle at the Baytown Kennel Club show on April 30, 2005.

Ingenue (left) and GiGi (right) enjoyed their show ring debut at the Bee-Tex Kennel Club show the weekend of April 23-24, 2005. Inge won the 6-9 month puppy bitch class with her first showing on Saturday, and GiGi won the bred-by bitch class and took Reserve Winners Bitch on Sunday!